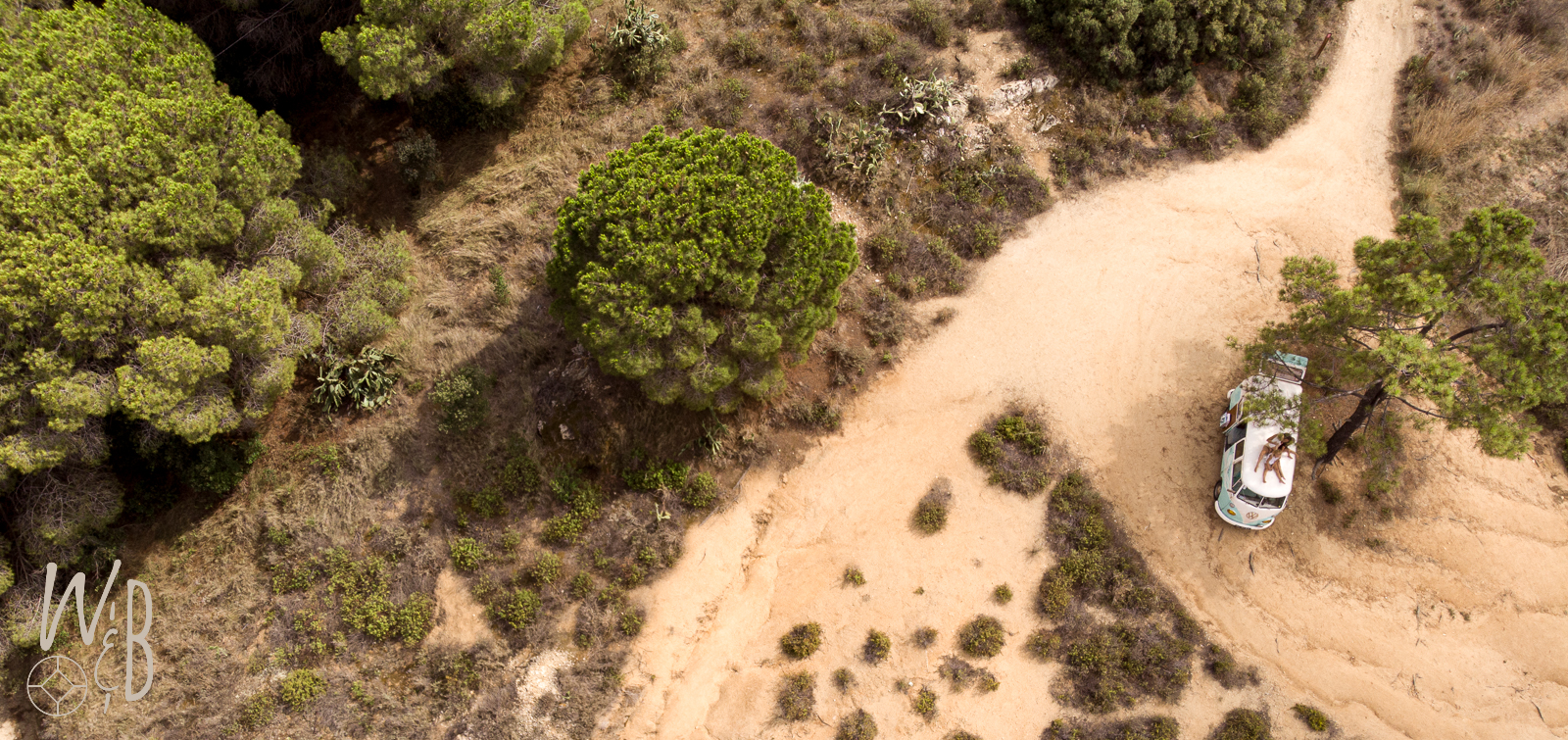 INLEIDING
On the road zijn er allerlei gevaren die er voor kunnen zorgen dat al je foto's van je roadtrip naar bijvoorbeeld Bali onderweg kwijt kan raken!
Hieronder vertel ik je wat de beste manieren zijn om onderweg je foto's op te slaan om te voorkomen dat je je foto's verliest.

Een van de belangrijkste dingen van ons werk is het niet kwijtraken van foto's, het zij door het crashen van een kaartje, schade of door simpelweg gewoon het kaartje kwijt te raken of diefstal. Jammer genoeg is het nooit 100% te voorkomen. Jammer genoeg is het ook bij ons eens voorgekomen.
Foto opslag onderweg is nog net even een stukje lastiger dan wanneer je gewoon thuis of op kantoor bent. Als we thuis zijn kunnen we direct de foto's op onze server zetten waar ze dubbel geback-uped worden, dit kan dus onderweg ook niet.
En het naar een cloud uploaden als je ergens in een vaag dorpje in the middle of nowhere zit kost je 3 extra dagen reistijd naar de bewoonde wereld! Dus dat is ook niet altijd een optie. 
Hieronder geef ik je 5 tips die wij aanhouden op het moment dat we on the road zijn en we moeten onze foto's opslaan op reis.
Deze tips hebben we door onze ervaringen opgedaan, dus als je je hier aan houd minimaliseer je je risico's zoveel mogelijk en kom je vrijwel zeker met al je foto's weer thuis aan. 
Blogpost door:
MICHIEL FOOK
Vader des huizes
De man in ons kippenhok. Een echte meiden papa, filmmaker, fotograaf en hoofd-monteur tijdens onze reizen in het busje.
Onze techneut die graag zijn dad-perspective geeft in de belevenissen van ons gezin.
Volg Michiel ook op Instagram:
@5ofusinabus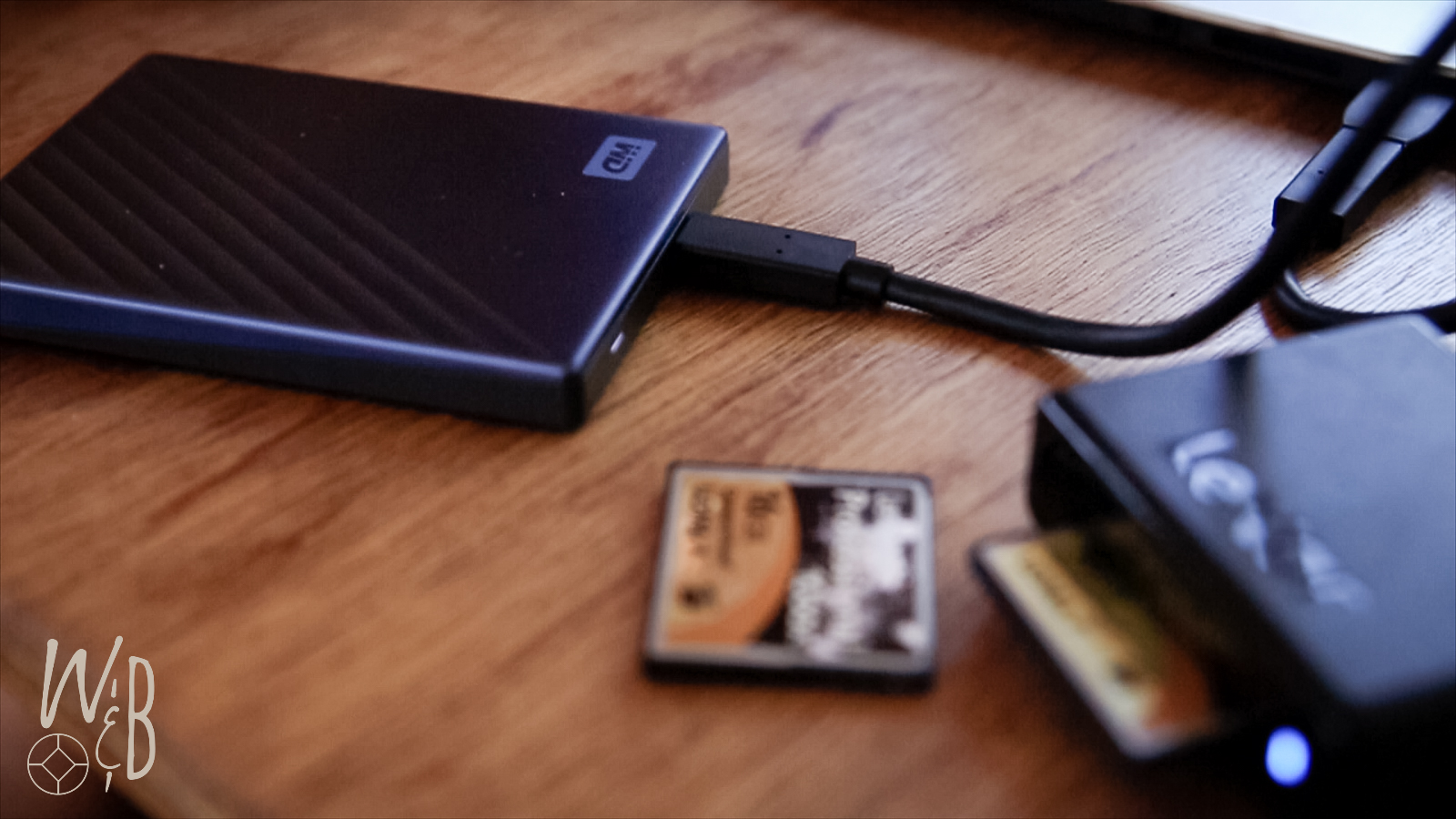 TIP 1: Externe Hardeschijf
Naast dat je je foto's opslaat op je laptop onderweg, sla je foto's ook op een externe hardeschijf. Mocht je laptop kapot gaan of gestolen worden onderweg dan heb je altijd een back-up op je externe harde schijf.
Wij hebben zelf altijd een My Passport harde schijf van Western Digital mee onderweg, deze zijn klein en hebben een snelle transfer snelheid met de USB3.2 die er op zit.
TIP 2: Kleine SD/CF kaartjes
 Gebruik meerdere kleine geheugenkaartjes in je camera in plaats van 1 grote. Wij zelf gebruiken alleen maar 16GB geheugen kaartjes en geen 64GB geheugen kaartjes, dit doen wij om te voorkomen dat als er één kaartje kapot gaat je niet 64GB aan foto's kwijt bent maar dus alleen maar 16GB. 
We nemen dus 12 keer 16GB kaartjes mee en niet één 64GB, omdat je onderweg bent en je loopt misschien een dag door het bos, dan schiet je al gauw die 64GB vol, helemaal als je op RAW fotografeert. Je kan het dan niet legen en de kans bestaat (helemaal als het een wat ouder kaartje is) dat die een Error aan geeft wanneer je het wilt legen. (zie ook tip 5)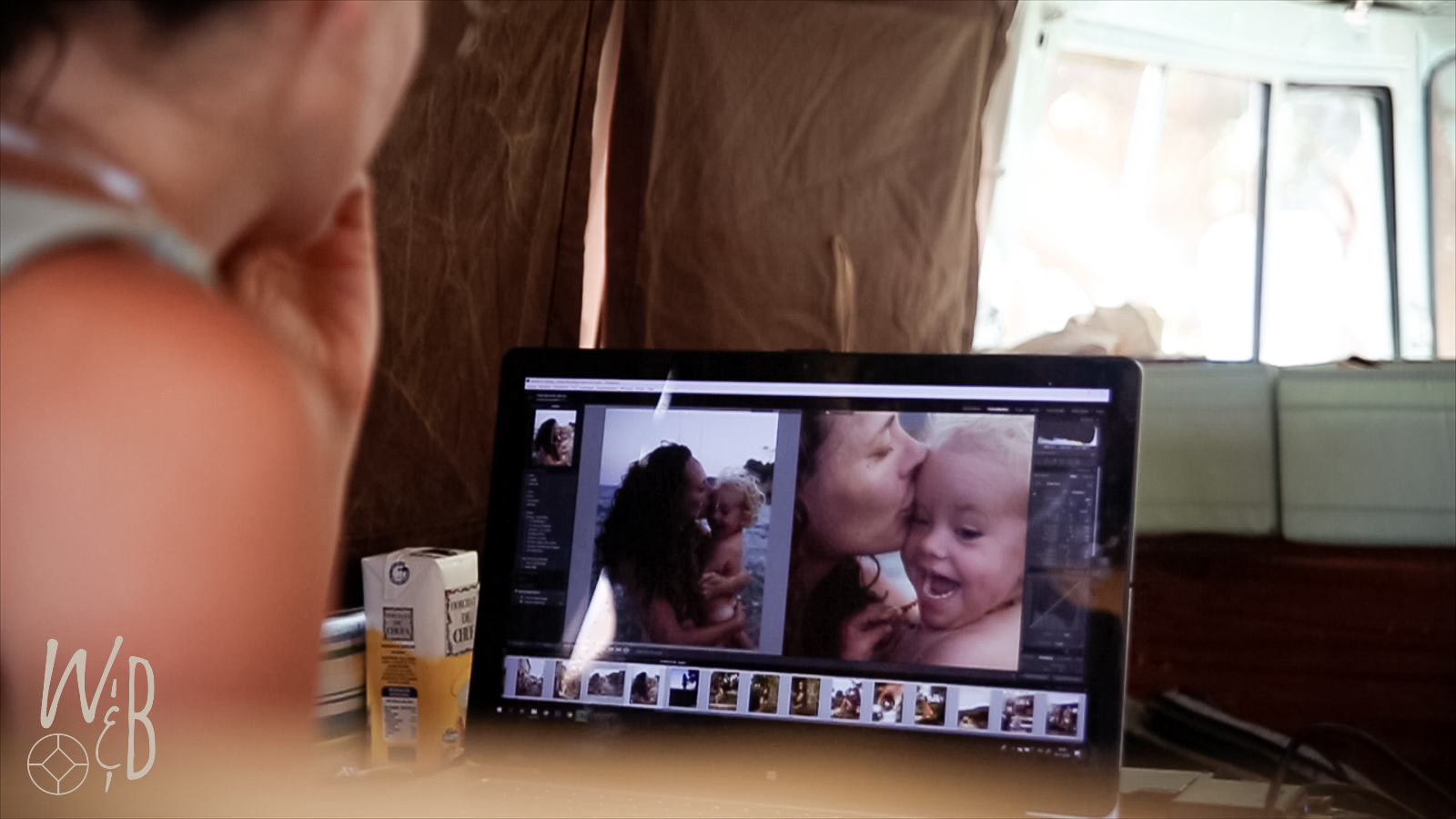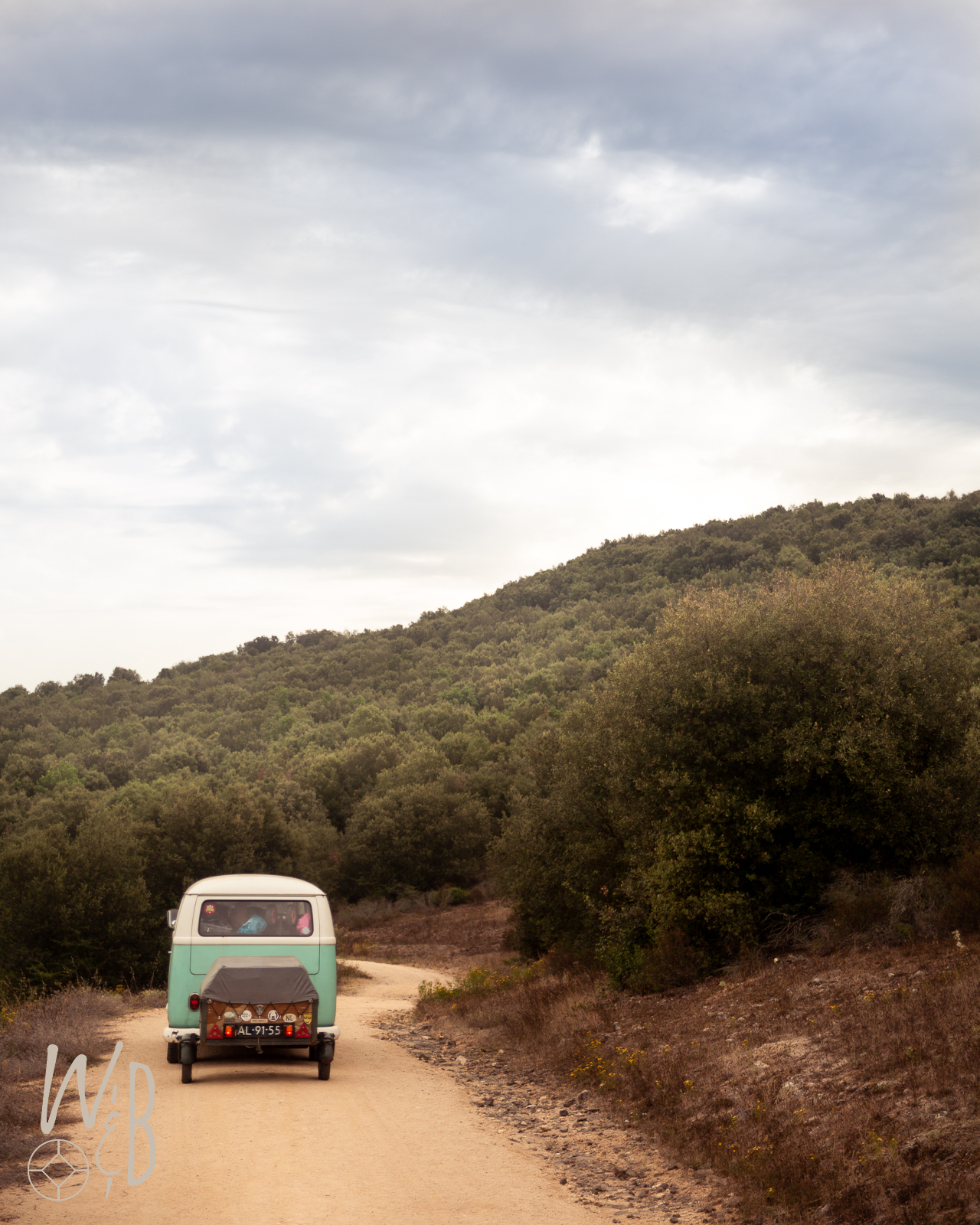 TIP 3: Verstop plek
Het klinkt misschien stom en je denkt in eerste instantie dat het niet nodig zou zijn, maar wij hebben een geheim vakje waar wij onze belangrijke documenten bewaren maar ook onze externe hardeschijf. Jammer genoeg komt het dus voor dat er spullen gestolen worden uit Tenten, auto's en Campers. En we gaan het ze niet te makkelijk maken natuurlijk.
Daarom hebben wij een geheime opberg locatie dat mochten ze iets willen stelen, dan zouden ze misschien wel de laptop kunnen vinden maar niet het Externe harde schijf waar onze back-up op staat van de vakantie. 
Hoe vervelend het ook is dat er materiële schade is, de foto's zijn onbetaalbaar die op de laptop stonden die gestolen is. Voorkom dus dat je alles kwijt raakt en sla je bestanden op 2 verschillende devices op en berg ze op 2 verschillende locaties op.
Het kan zo simpel of uitgebreid als je zelf wilt, al leg je de externe hardeschijf bij het reservewiel of je maakt er een speciaal vakje voor met een slot erop. Zolang je maar de hardeschijf weg houd van je Laptop, mochten ze er één vinden en mee nemen dan ben je niet meteen beiden kwijt.
Je wilt het ze zo moeilijk mogelijk maken om je kostbare spullen te vinden, hoe lastiger het voor ze is de langer het duurt, de langer het duurt de eerder ze het op zullen geven. 
TIP 4: Card Reader
Onderweg heb je weinig tijd, helemaal als je net als ons met 3 kids op reis zijn in een veels te klein (maar vrolijk en knus) busje.
Om zo snel mogelijk je kaartjes te legen is het belangrijk om een snelle cardreader te hebben, gecombineerd met een snelle externe hardeschijf scheelt dat aanzienlijk veel tijd. Als je een kaartje van 16GB leeg haalt kan dit binnen 12 minuten, als je Card-reader langzaam is dan zal dit meer dan een half uur duren.
Op het moment dat je met je laptop zonder een stopcontact in de buurt foto's op je laptop moet krijgen, kan een snelle cardreader je redding zijn. Een goeie cardreader heeft een transfersnelheid van 5.0GB en USB 3.2. dit zorgt er voor dat data 10x sneller overgeschreven kan worden dan de oude USB2.0. Zo heb jij altijd je foto's op tijd gebackuped voordat je laptop batterij leeg is.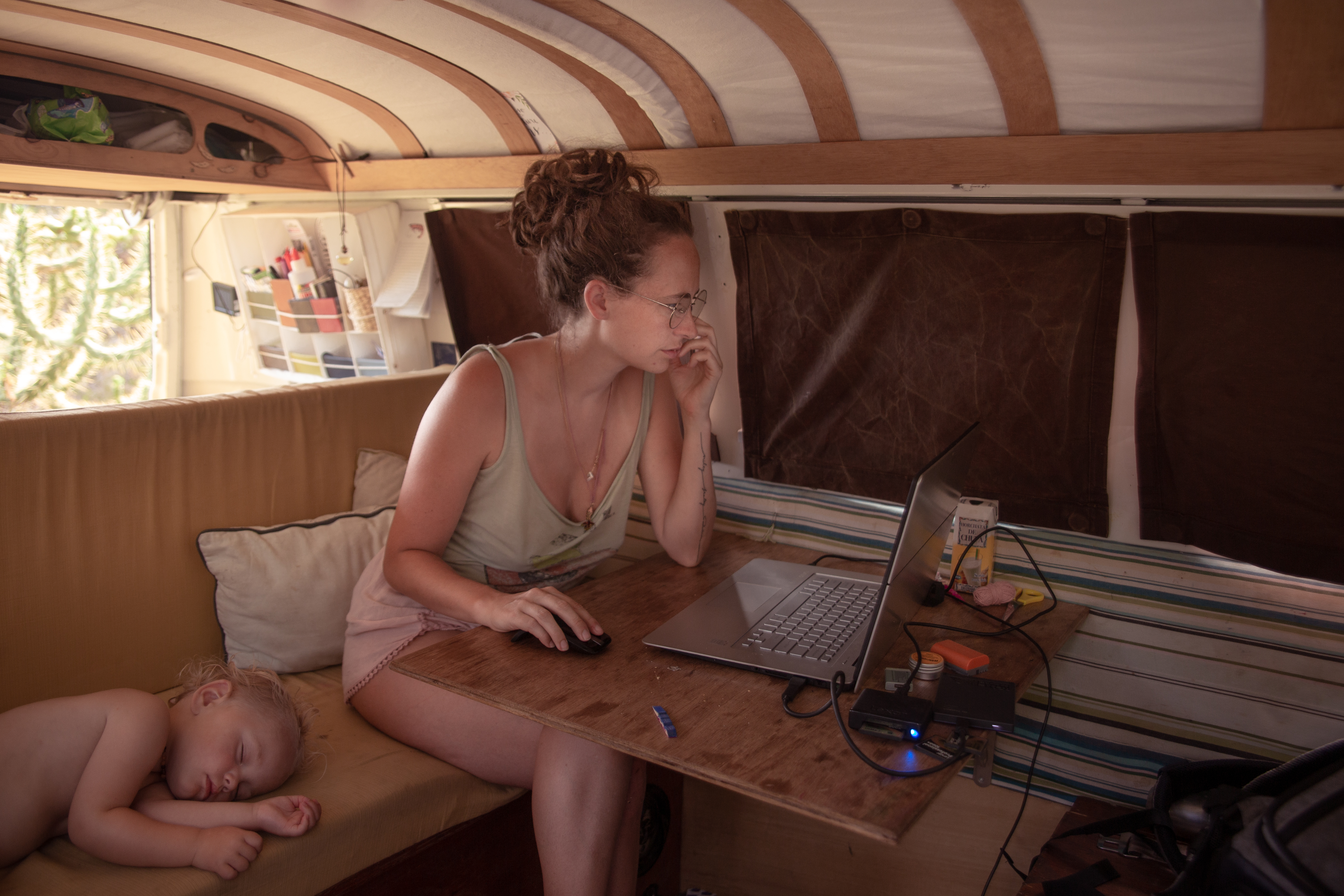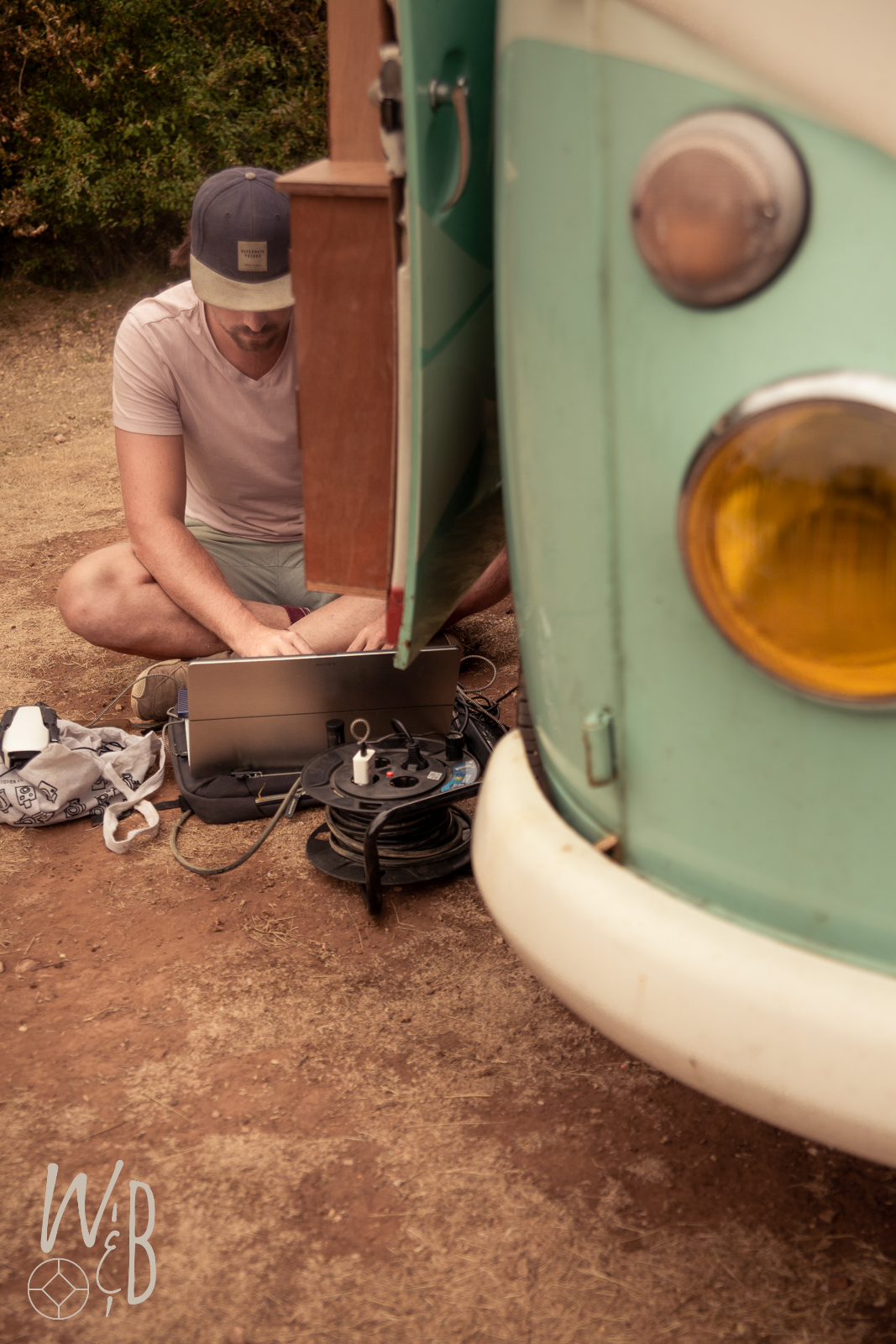 TIP 5: Nieuwe externe opslag schijf en kaartjes
Als je een nieuwe lange reis begint is het handig om een splinter nieuwe harde schijf te halen en verse camera opslag kaartjes. Dit zorgt ervoor dat er minder kans is dat deze onderweg crashed en bij thuiskomst heb je meteen een schijfje waar alleen die foto's van de roadtrip op staan.
Je kan de data van het schijfje later op je desktop computer zetten, en de schijf als back-up bewaren bij je ouders o.i.d mocht er in huis ooit brand uitbreken of waterschade ontstaan.
Harde schijven krijgen steeds meer opslag en worden steeds goedkoper, een kleine investering van zo'n 50 euro voor een 1TB kleine hardeschijf kan een veel plezier geven als je op vakantie gaat waar je prachtige foto's maakt.
Wij hebben altijd al gebruik gemaakt van Western Digital Hardeschijven, zowel op kantoor als on the road, en intern als externe schijven.
De harde schijf die wij mee hebben genomen is de WD My Passport, met meer dan genoeg ruimte om alle 8444 foto's die we gemaakt hadden met onze laatste roadtrip. We zijn dan ook heel blij dat we dit model mochten testen op onze reis door europa afgelopen zomer.
je Herinneringen zijn het waard om beschermd te worden
Het belangrijkste is dat als je weer thuis komt je al je foto's veilig en wel bij je hebt. Je foto's zijn tenslotte een manier om die dierbare herinneringen weer naar boven te halen van je avontuur.
Dus travel safe, beleef avonturen. Leg ze vast en bewaar ze veilig. En zo kun je jou avonturen voor altijd koesteren!
Meer Foto's:
Hier zijn een aantal foto's die we hebben gemaakt tijdens onze vanlife roadtrip door europa in 2019